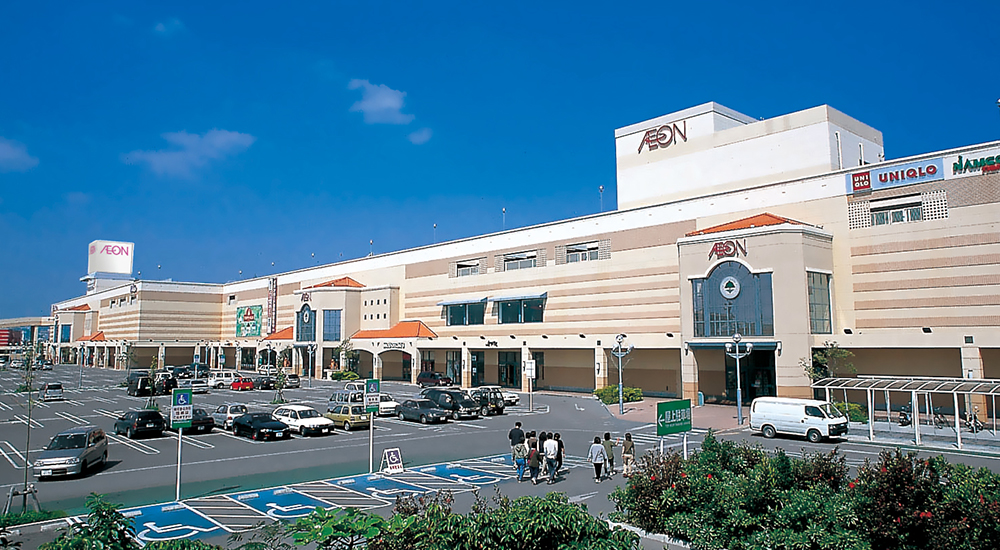 【AEON SHOPS: Specialty Shops】 Introducing 5 Shops from AEON Gushikawa Store!
AEON Gushikawa opened in 2000 and is one of the AEON RYUKYU shopping centers. The large retail complex contains various types of speciality shops and also has a lineup of products to meet the needs of the local people.

To introduce these shops in depth, there will be 2 articles! In this article, we will be introducing 5 recommendations of specialty shop. ▼ Speciality Shops ・ESTELLE ・TIME STATION NEO ・AGARIE MEGANE ・BLUE SEAL SHOPPE ・Roseri
"ESTELLE" — Hanadama pearl and Alexandrite jewellery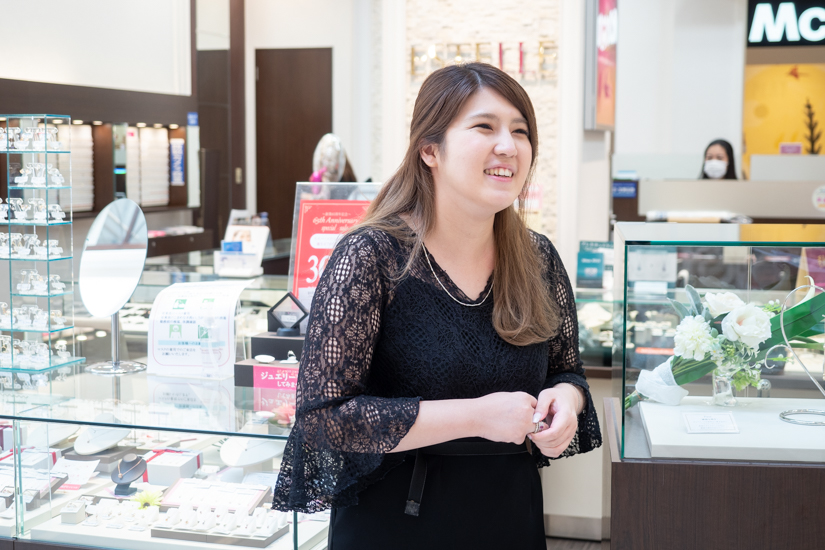 ESTELLE specializes in various jewelleries and accessories that including diamonds. By having their own factory, they carry out in-house design, production and sales in order to provide
high quality jewellery at an affordable price.
ESTELLE has a wide range of collections such as "Cinema STORY" which brings out the brilliance of the wearer with the elegance of the diamond and "Thanks Days Platinum", which is a perfect gift for a special occasion.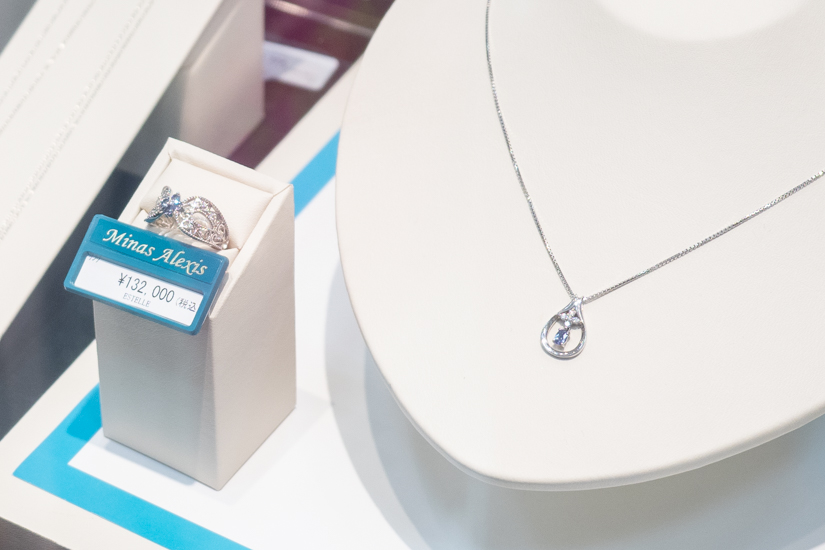 ESTELLE uses
one of the rare gems "Alexandrite"
, which is the brand's distinctive feature.
Alexandrite is a mystical gemstone 
that shines in deep turquoise in the daytime or under strong light, but it turns to reddish purple under the candle light or nighttime lights♪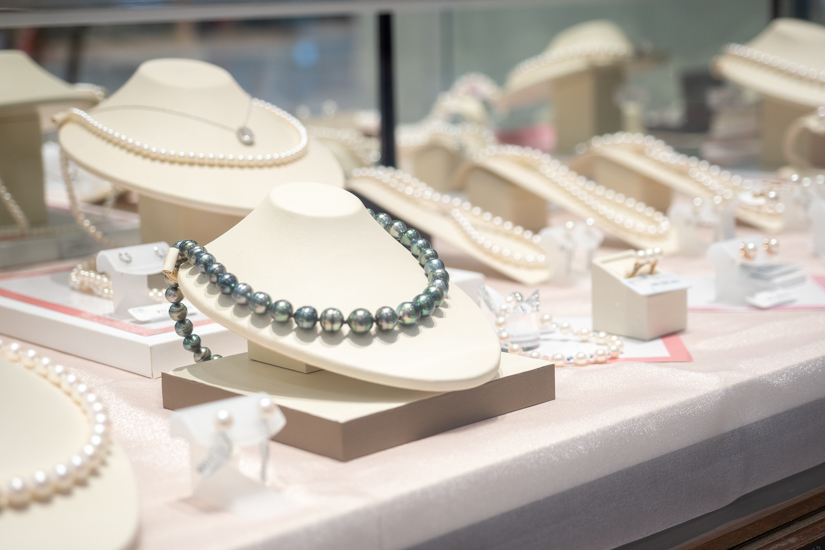 ESTELLE also offers a variety of pearl accessories and jewellery.
Among them, pearl accessories that use Hanadama pearls which are the highest quality pearls certified by the Japan Pearl Science Laboratory. 
The pure luster is one of a kind.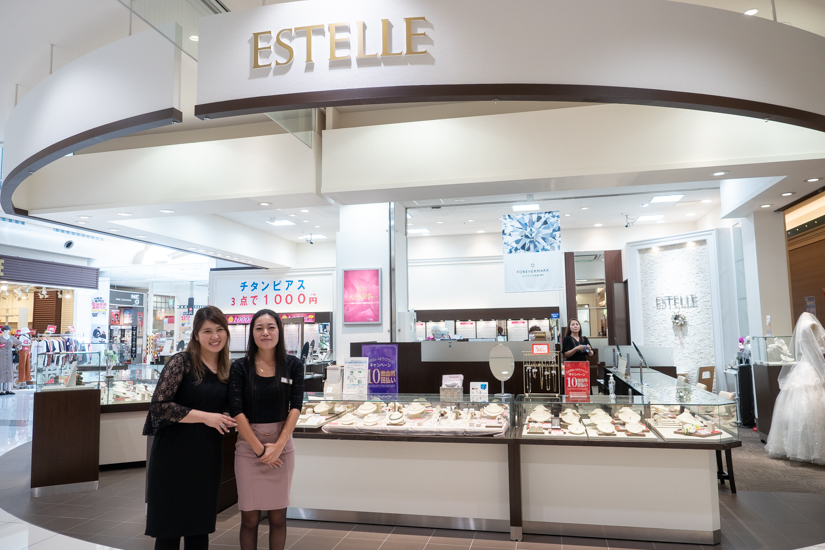 The shop also
provides a remodelling service of old jewelleries
and offer free quotes. They also offer a free jewellery cleaning service if you require. It only takes a couple of minutes, so you can ask them for the service while shopping at AEON Gushikawa stores.If you want to send someone a special gift, want to give yourself a present or want to cheer yourself up, please visit ESTELLE to find your favourite jewellery.
"TIME STATION NEO" — From casual to formal watches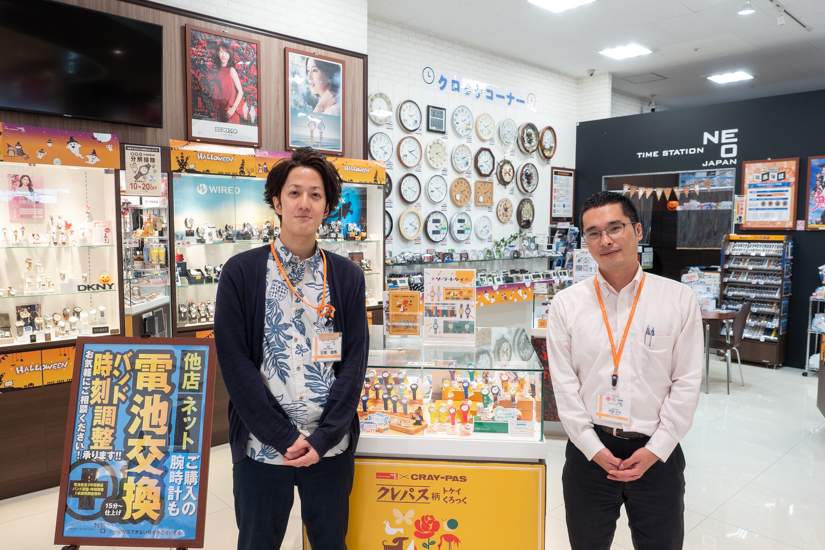 Time Station NEO is a watch shop that provides a wide range of wristwatches, from casual to formal watches.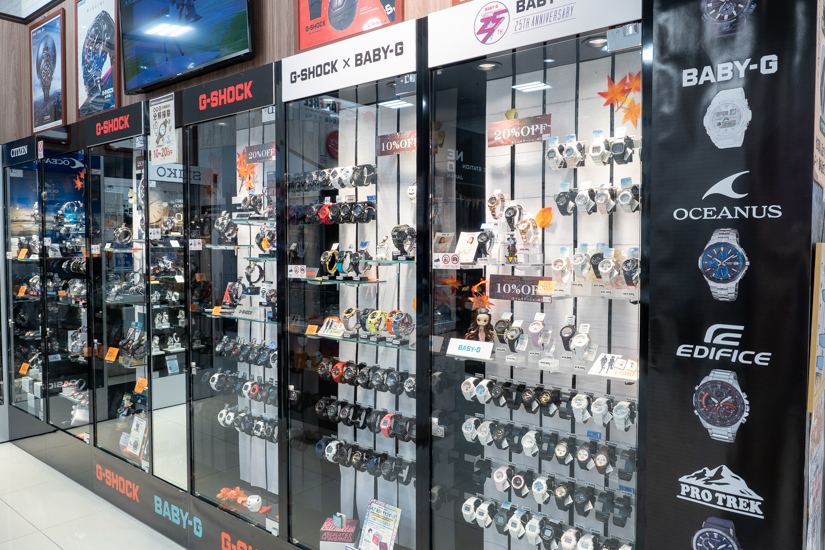 Time Station NEO has
a lineup of wristwatches from domestic manufacturers such as Seiko, Citizen, and Casio.
Casio watches with functions such as solar batteries and radio clocks, which are also popular with young people. They also offer G-SHOCK for men and Baby-G for women.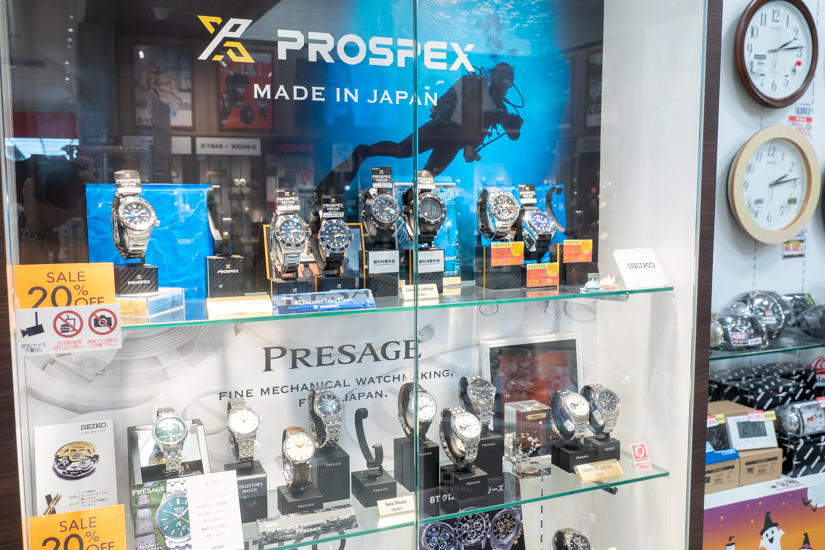 Divers' models also tend to be popular in Okinawa store branches. Not only divers but
many people select Divers' model as a fashion item.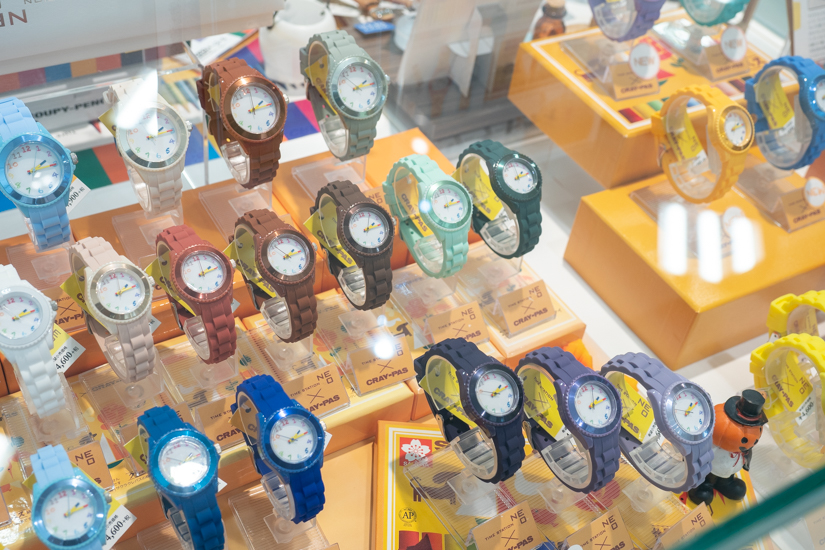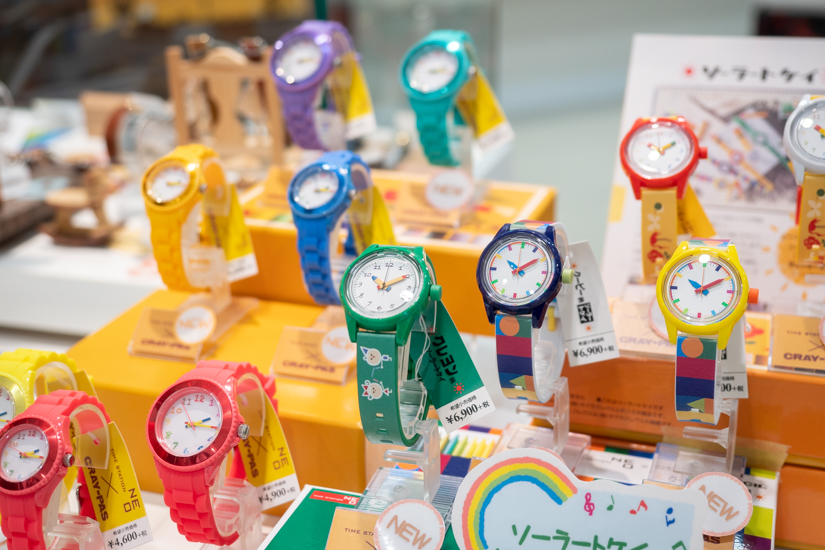 We also
recommend "Cray-pas Watch", an original collaboration with Sakura Colour Products Corporation.
There are various colours to select from and at a reasonable price range so it is recommended for kids or women!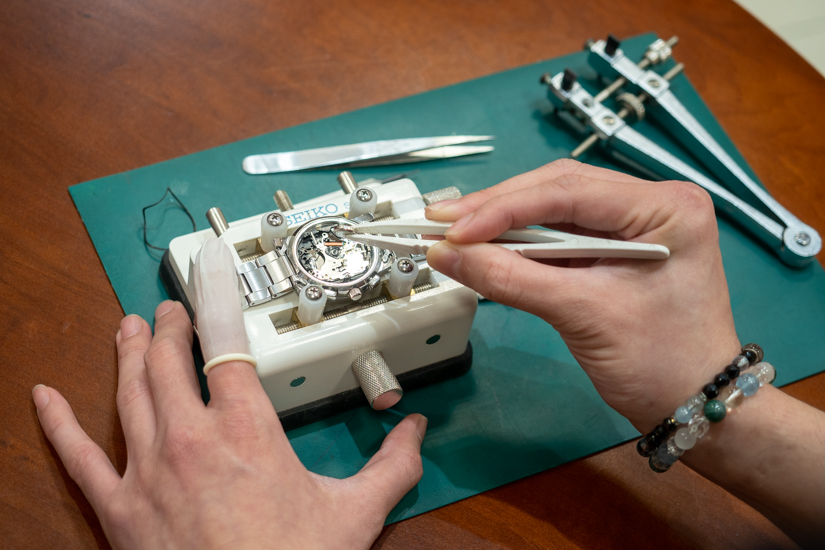 Time Station NEO offers other services such as wristwatch cleaning, maintenance and repair services. If you have a wristwatch that hasn't gone through a maintenance service or a wristwatch that isn't working, you can ask the shop if it can be repaired or not.
"AGARIE MEGANE" — The widest range of eyewear in Okinawa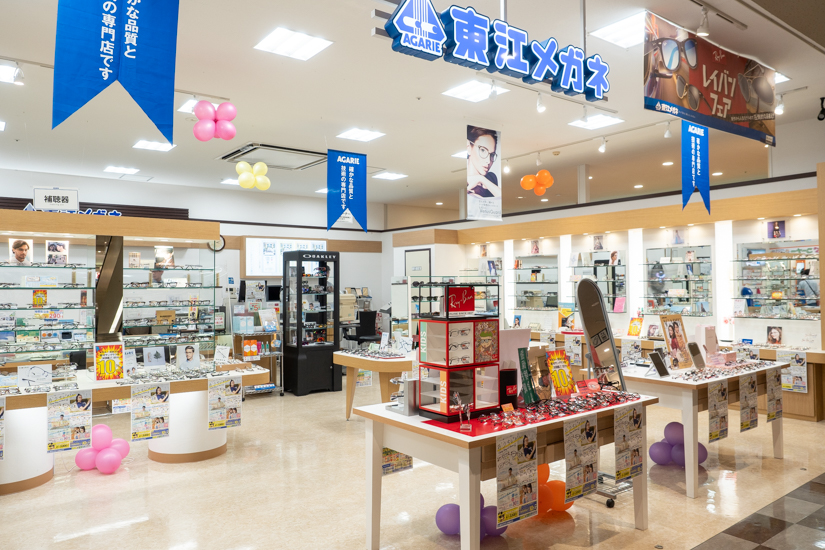 AGARIE MEGANE is an eyewear store with store branches spread throughout Okinawa. They offer
a wide range of eyeglasses, contact lenses and hearing aids. 
AGARIE MEGANE not only sells products and repairs eyewear, you can also seek advice from them about social care-related products.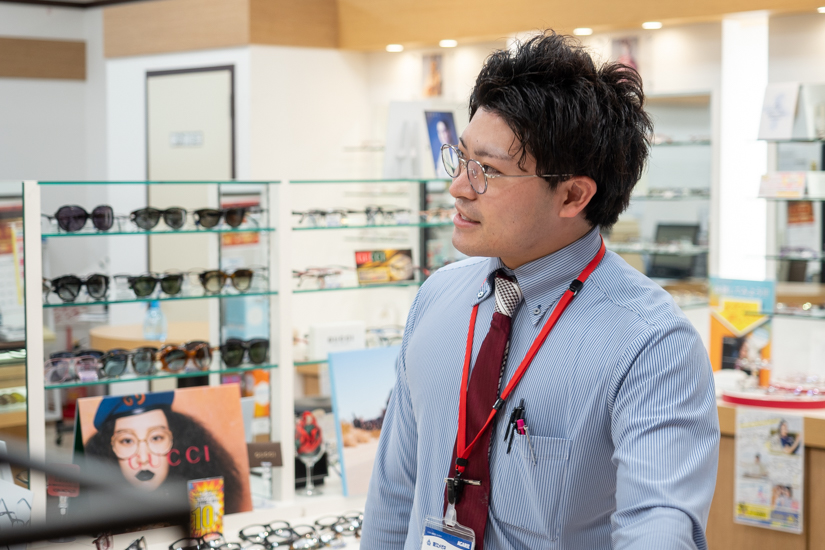 Although there are many lineups of eyeglasses,
the most recommended brand now (October 2020) is "Mackintosh Philosophy" 
which is only available at AGARIE MEGANE in Okinawa. Mackintosh is a long-established brand in the UK and have a wide variety of stylish eyewear available for the young generation!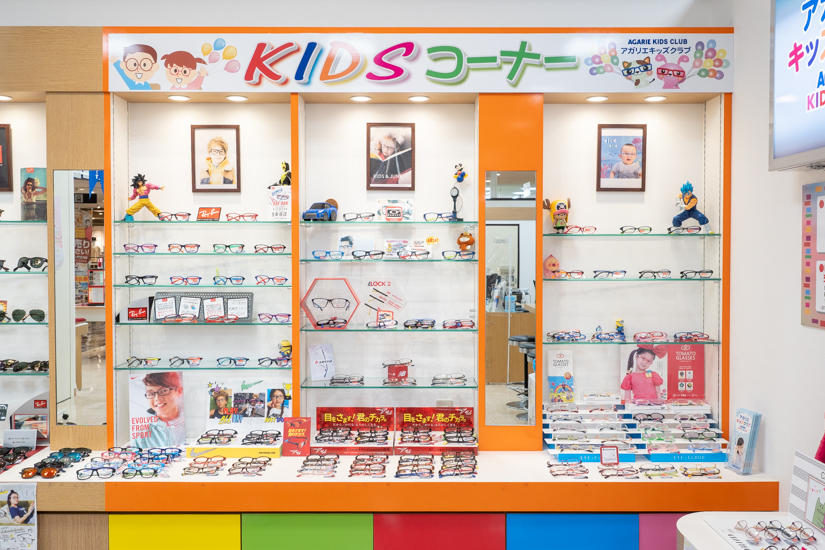 When you visit the store, you will see there are many kids glasses available. 
AGARIE MEGANE particularly focuses on eyeglasses for infants to young teenagers with various sizes. 
There are various designs to choose from so that children can find their favourite glasses easily!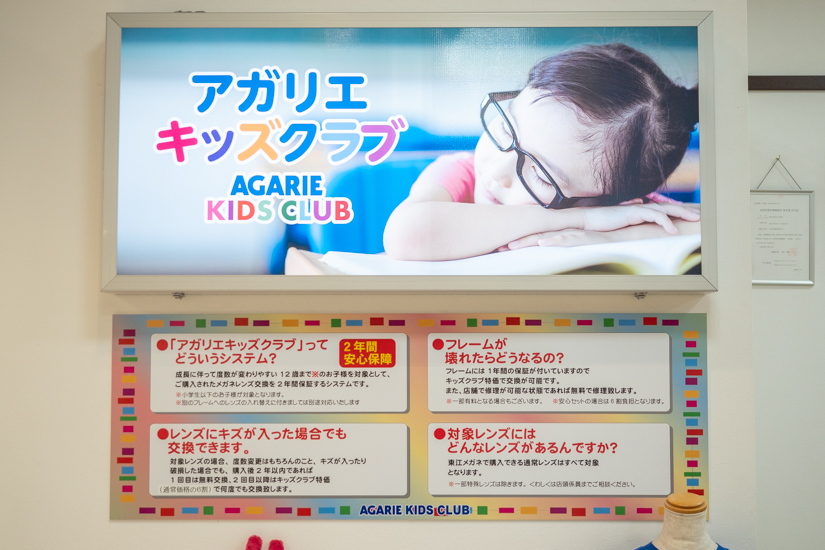 AGARIE MEGANE also
provides a warranty system called "Agarie Kids Club"
for children's glasses since their eyesight can change frequently and to cover lost or damaged glasses. The warranty was only available for children up to elementary school students but now it includes up to high school students. Please ask the staff for more information.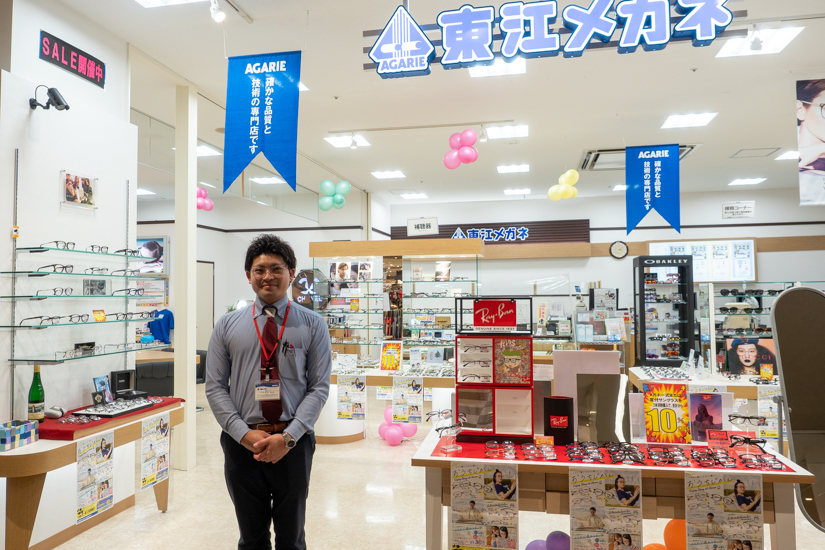 The staffs are knowledgeable, trained and have expertise with fitting and coordinating so customers buying glasses for the first time can feel free to ask them anything.
"BLUE SEAL SHOPPE" — Okinawa born ice cream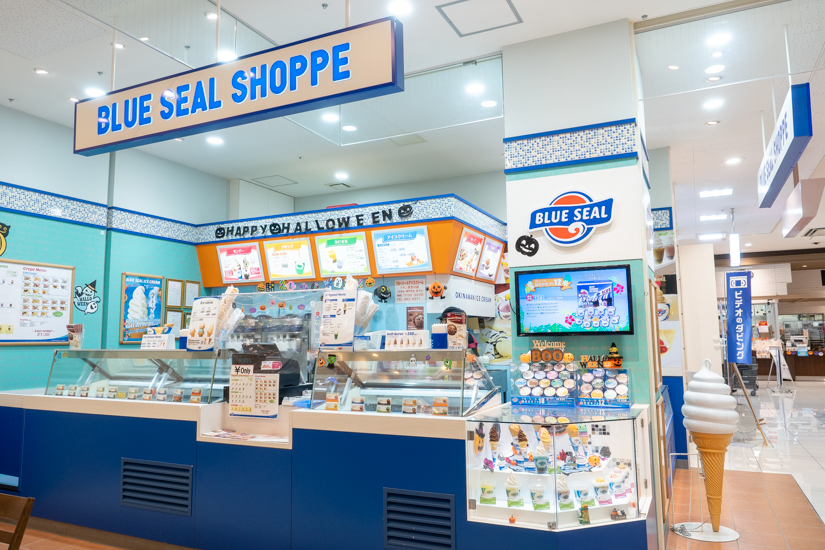 Okinawa born ice cream "BLUE SEAL SHOPPE" is also in AEON Gushikawa store. BLUE SEAL normally only offers ice cream and crepes, at this AEON
you can also enjoy other cold desserts such as tapioca drinks, parfaits, sundaes and Okinawan zenzai!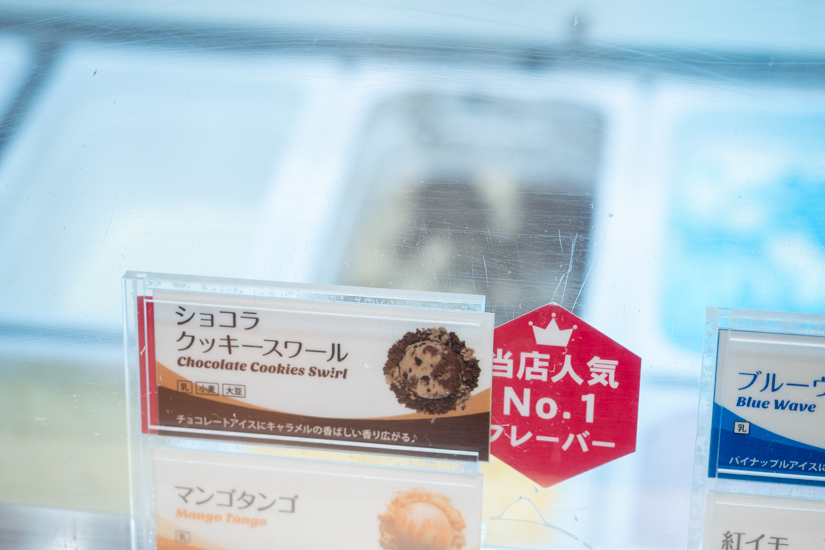 AEON Gushikawa BLUE SEAL SHOPPE's most popular flavour is Chocolate Cookie Swirl. This flavour is especially popular with young people! A special flavour that uses "Nuchimasu" (Okinawan salt), also made in Uruma city, is another popular taste, so you can enjoy a different taste of sweet and salty flavour.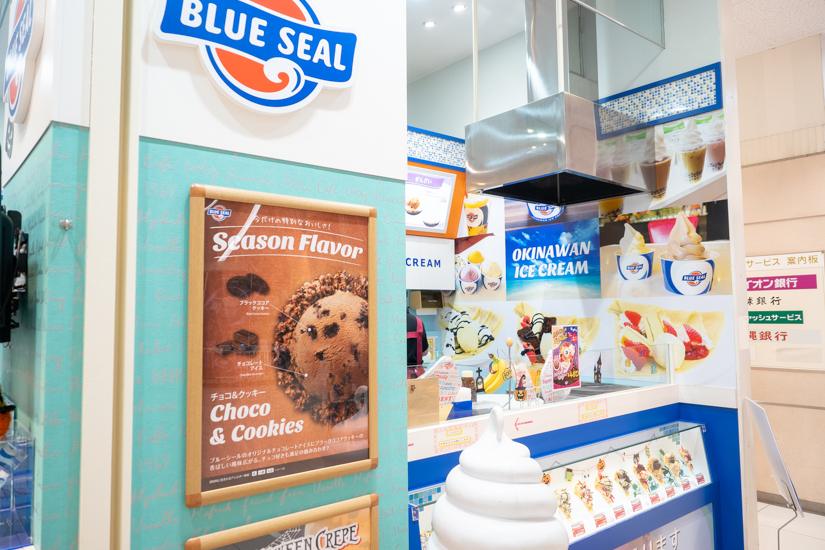 It may vary due to the influence of the coronavirus but 
every three months a limited flavour comes out so please watch out for that too!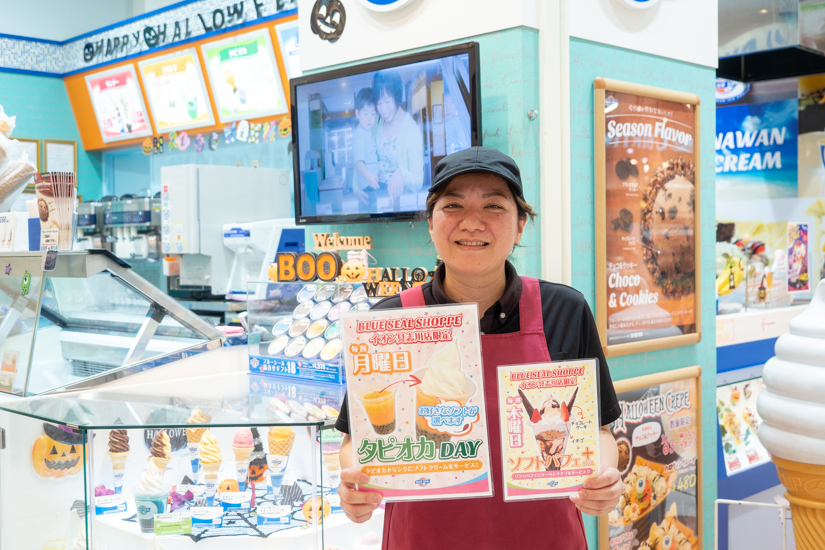 Also, BLUE SEAL SHOPPE Gushikawa also holds 
"TAPIOCA DAY" every Monday and "Soft Parfait+" every Thursday
so please come and enjoy!
"Roseri" — Apparel shop for teenage girls to mums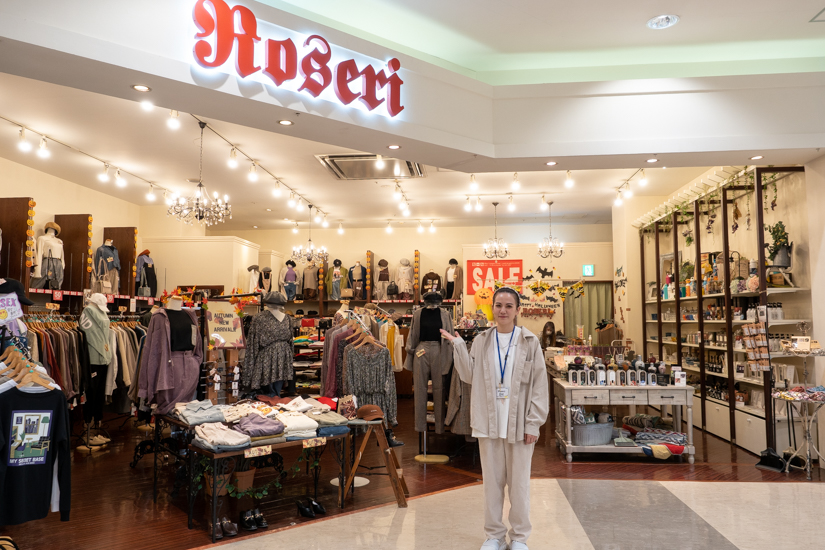 Roseri is a women's apparel shop that offers a variety of fashion items for all generations. They have a wide range of fashion items from teenagers to mothers so
there are many mums and daughters come together to shop.
Many items at Roseri are at affordable prices which is also an attractive point!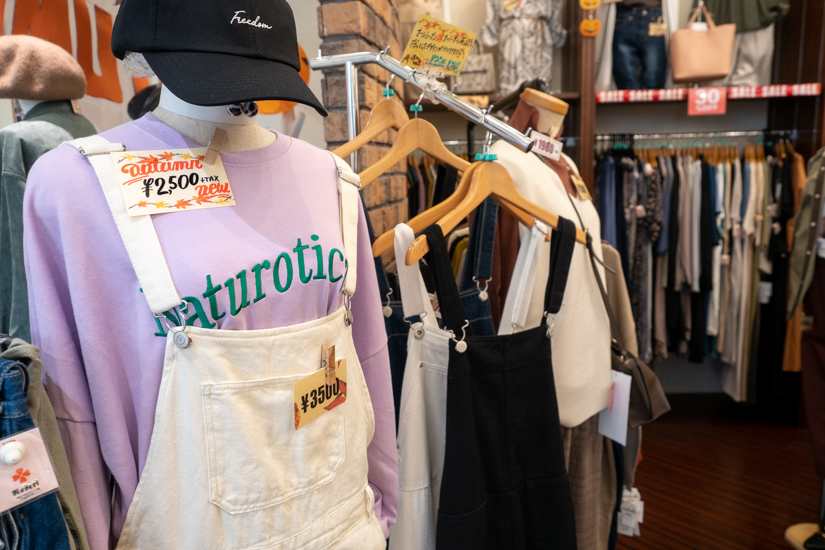 The fashion lineup changes every season but dungarees are available throughout the year! It is popular with high school and college students as well as for mum's when playing with children.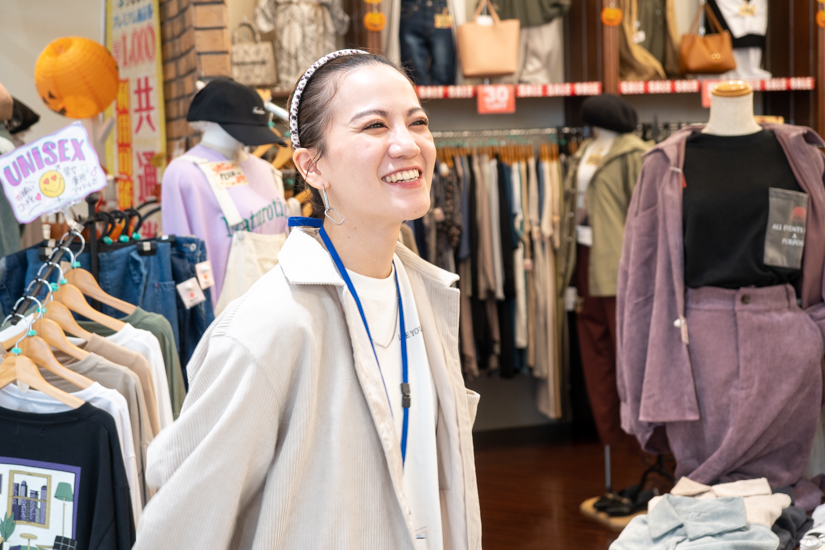 Roseri has many regular customers. Shop staff communicate with them to find out their needs and reflect those requests in their product lineup. 
Therefore, each Roseri store offers a totally different and unique product lineup.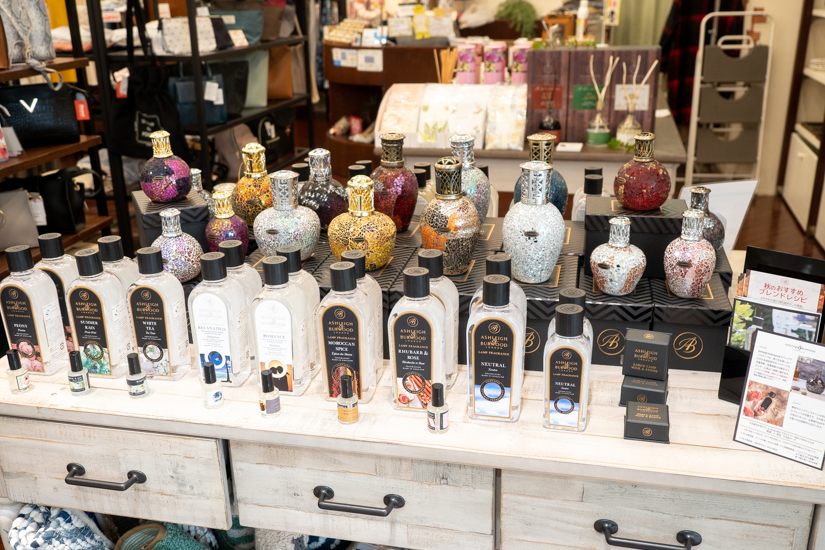 AEON Gushikawa's Roseri recently has started to purchase knick-knacks from affiliated stores, and currently they have
a large range of glittering and stylish fragrance lamps 
in the shop. 
Each fragrance lamp is hand-crafted in the UK, the home of aroma, and every item is special.
Aroma not only has a healing effect but it gets rid of bad odor, purifies air, prevents mold and mites and kills germs by 99.9% so it is recommended as a gift or even for yourself!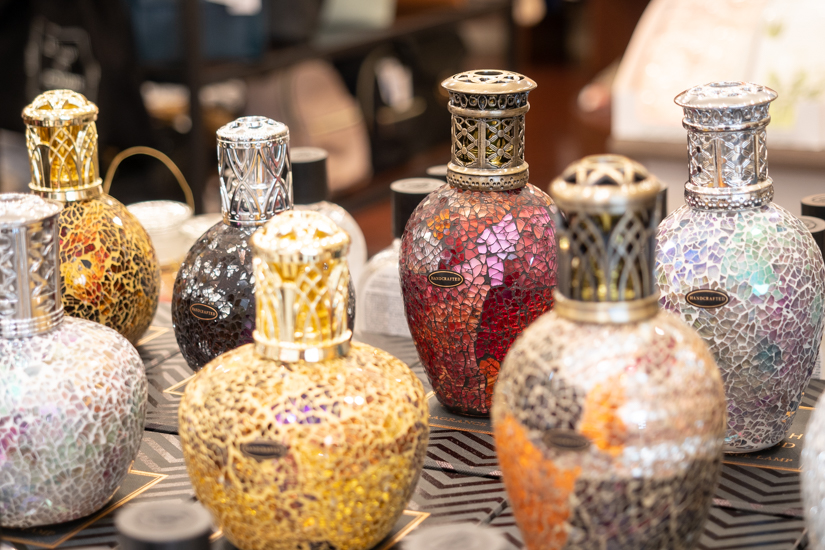 Please go and visit AEON Gushikawa store!
There are many more specialty stores in AEON Gushikawa other than the above 5 stores. It should be fun just window-shopping discovering what kind of stores there are! If you want to find out about the attractive points of AEON Gushikawa directly-managed store, please also read the below article.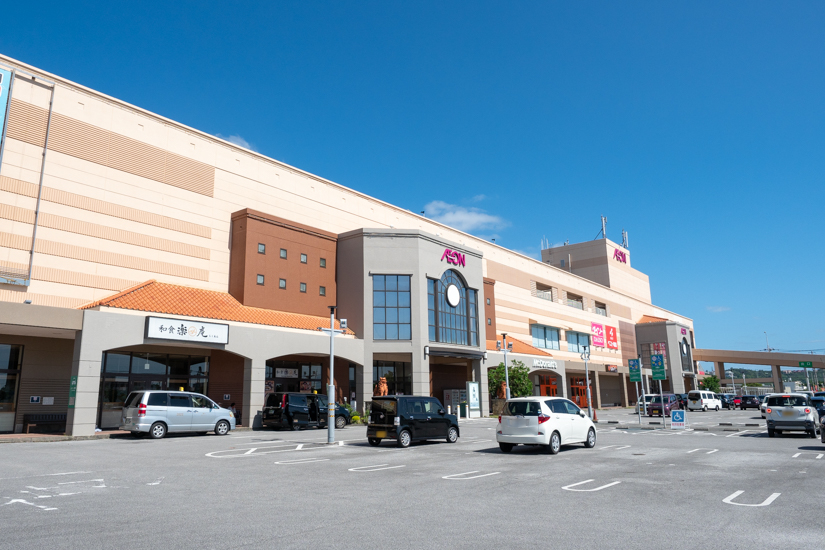 Store Information
AEON Gushikawa Food Section: 8:00–24:00 Clothes & Living Section: 10:00–23:00 ※Some stores have different opening hours. Tel: 098-983-6565 Add: 303 Kosakibaru, Maehara, Uruma City