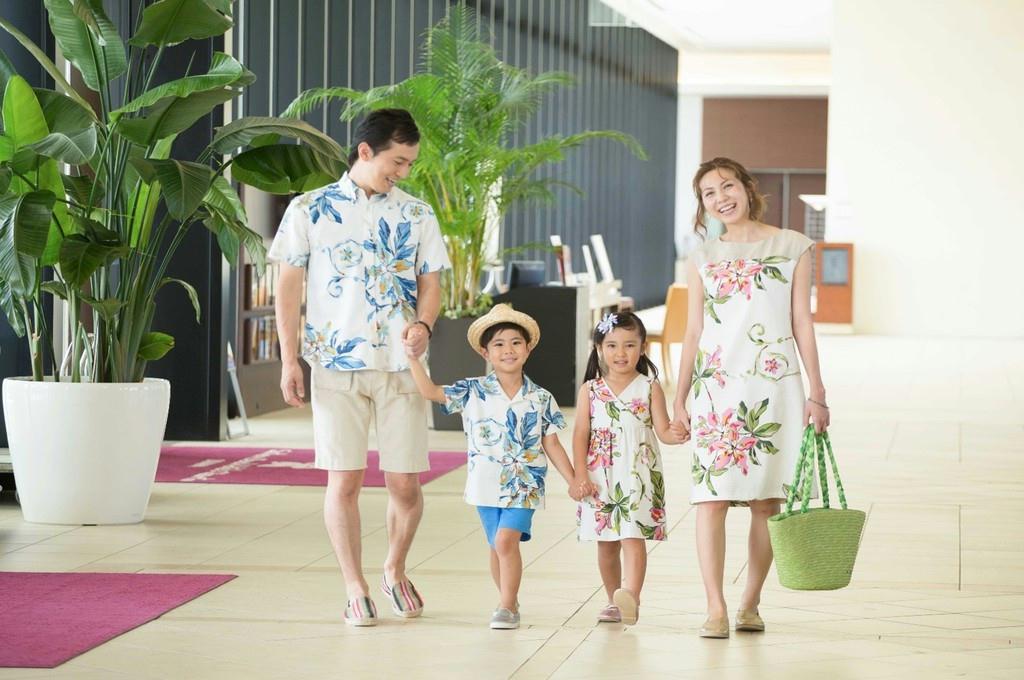 "Kariyushi wear" is a shirt you want to wear as a matching-look when you come to Okinawa! It'll make all your photos look great against the summer sunshine and the blue ocean.
The difference between aloha shirts and Kariyushi wear
"Kariyushi wear" is a shirt specially manufactured as resort wear to promote Okinawa as well as enabling to spend the Okinawan summer comfortably. The design is very similar to aloha shirts and in fact, is designed based on motifs of aloha shirts. However, "Kariyushi wear" must meet below all three terms: 1. Manufactured in Okinawa 2. Designs must have Okinawan motifs 3. Official certification Many of the design motifs are based on Okinawan's traditional cloth-die patterns such as "Ryukyu Kasuri" and "Bingata", shisa lions and hibiscus flowers. The use of colors is much softer and it is made of cotton to absorb moisture to prevent stickiness, whereas aloha shirts are often made of synthetic fibers like rayon.
Must have this "Kariyushi Wear" tag to prove its official certification. ↓↓↓↓↓↓↓↓↓↓↓↓↓↓↓↓↓↓↓↓

"Kariyushi wear" is a formal dress in Okinawa
Kariyushi wear's greatest points are "cool on skin", "comfortable" and "stylish". Since Okinawa is warm throughout the year, it is very common to wear Kariyushi at a business scene. In addition, "KARIYUSHI" in Okinawan dialect means "happy" so if you decide to attend a resort wedding in Okinawa wearing Kariyushi wear, no doubt the wedding ceremony will be a memorable one! Ladies can purchase "Kariyushi dress", there are plenty of designs and patterns to choose from so you can do a pair-look with a family member or your partner, or do a matching-look with different colors to widen the fun of Kariyushi wear!
"Kariyushi wear" will make your Okinawa trip even more exciting and memorable.
You can find your favorite one in the fashion section at any AEON RYUKYU store