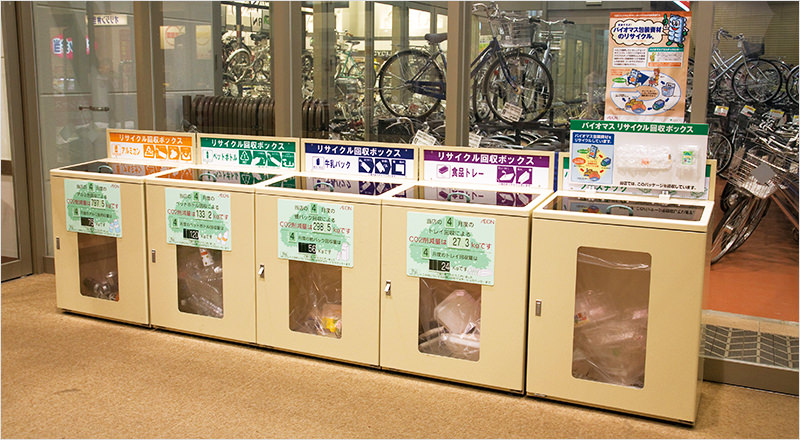 Actions to Prevent Global Warming and Reducing CO2
2017 AEON RYUKYU Reduction of CO2 Emissions
AEON RYUKYU proactively promotes environmental preservation campaign with our customers.
Most familiar examples are "bring your own shopping bag" and "in-store recycling box".
Encouraging customers to carry own reusable shopping bags reduces the use of plastic bags,
and this contributes to saving resources and CO2 emissions reduction.
In-store recycling box aims to reduce household waste by collecting food trays and paper cartons,
for the purpose of reusing resources.
Types of Recycling
Reduction
Carrying MyBag
(plastic bag cutdown)
29,787,220
Bags
Planting activity (in total)
146,743kg
Aluminum Cans
24,463.58kg
Food Trays
13,219.84kg
Milk Cartons
28,7112.16kg
Plastic Bottles
52,800.41kg
In-store Recycling Collection
We promote recycling campaign by installing in-store recycling boxes for milk cartons, food trays, aluminum cans, plastic bottles (at some stores).
Collected milk cartons are recycled and reused as toilet paper.
Tray→tray / milk carton→toilet paper / cans→kitchen stove guard
[Please use the recycling box too!]
Achievements
| Year | Food Tray | Milk Carton | Aluminum Can |
| --- | --- | --- | --- |
| 2013 | 15,354kg | 33,578kg | 25,773kg |
| 2014 | 12,775kg | 31,245kg | 26,232kg |
| 2015 | 9,668kg | 24,064kg | 19,616kg |
| 2016 | 11,802.82kg | 28,431.18kg | 24,728.37kg |
| 2017 | 13,219.84kg | 28,712.16kg | 24,463.58kg |
Plastic Bottle Caps
| Year | Amount | No. of People |
| --- | --- | --- |
| 2008 | 3,130kg | 574 |
| 2009 | 27,450kg | 5,032 |
| 2010 | 34,700kg | 6,361 |
| 2011 | 31,870kg | 5,843 |
| 2012 | 28,190kg | 5,168 |
| 2013 | 24,400kg *1 | 4,474 |
| 2014 | 10,130kg *2 | 1,857 |
| 2015 | 19,296kg *3 | 3,538 |
| 2016 | 20,727kg | 3,742 |
| 2017 | 11,672kg | 2,107 |
| Total | 211,565kg | 38,696 |
*Data up to 2013 is a sum for 1 year (Sept to Aug).
*2014 is a half-year data (Sept to Feb).
*Data from 2015 is a sum for 1 year (Mar to Feb)
(Plastic bottle cap recycling campaign started from Nov 1st, 2018)
2017 AEON Group Total
Amount Collected
221.78 million
Amount Donated
2,918,277 Yen