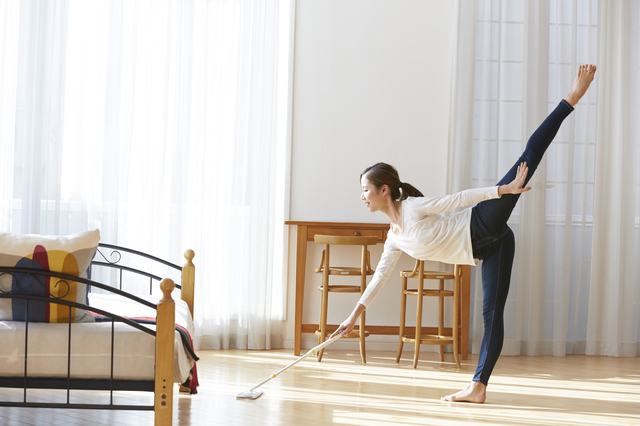 A clean home creates a positive mind & healthy body — Recommended cleaning goods that you can buy in AEON stores —
Does dust and dirt in your home bother you? Today, we want to introduce some of the useful cleaning goods that will make your home shine!
"One spot cleaning" to always keep the house clean. Maintaining your living room clean (only the spots where you'll see it)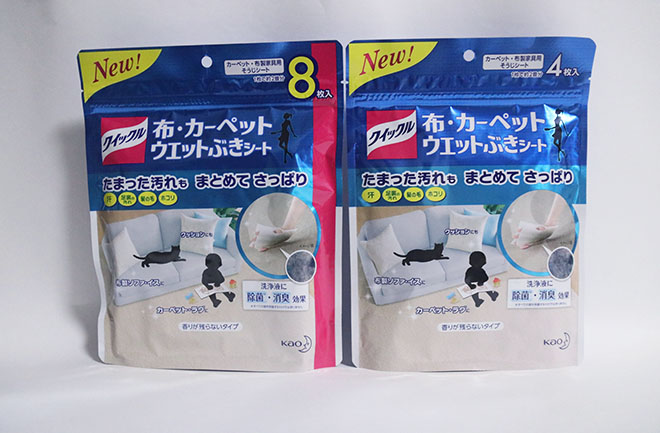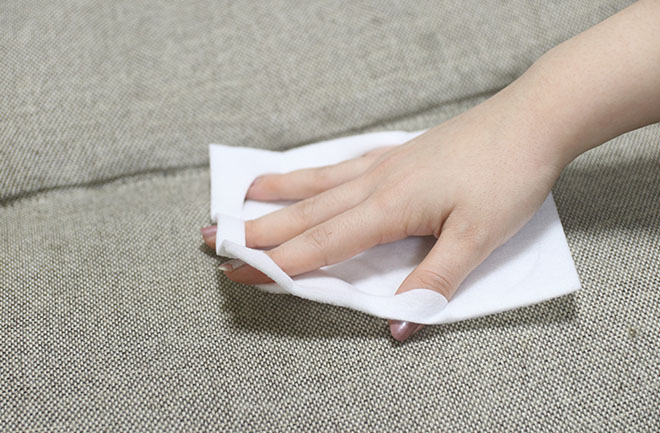 Other than keeping the living room floor spotless, doorknobs and remote controls should be cleaned regularly from finger oils and marks. Doesn't it bother you when you see your pet's hair and clouds of dust drifting on the floor or sweat and yellow strains on your carpet and sofa? SO! This is what we recommend, "Quickle Cloth & Carpet Wet Wipe Sheet". Its special feature is that each sheet has holes to put your fingers through for easy hold so if you need a firm grip to scrub, this item is just something you need! You might be surprised to see how "black" it gets!? Your cleaning experience will become much more enjoyable as you see the dirt coming off clearly with your own hands.
Even better if you clean narrow spaces and higher places that can't be reached!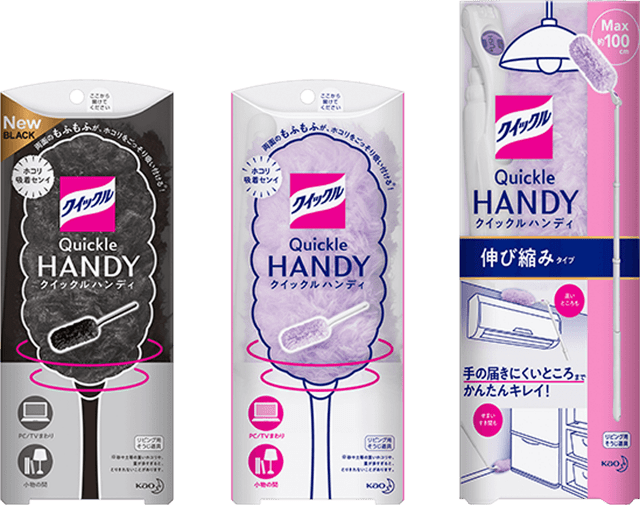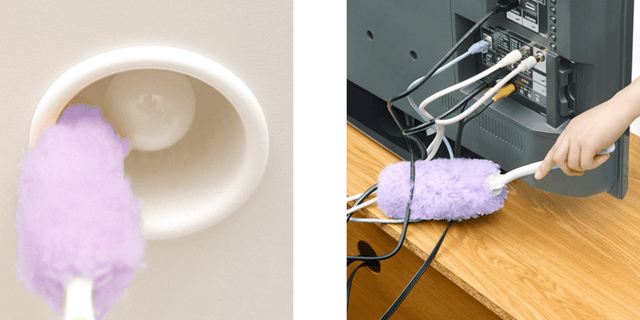 Do you look the other way when you see dust accumulated between furniture? If you leave the dust on electrical appliances, for example, the back of the TV or around the lights, it may cause a breakdown or fire. It's not like you don't know these problems… You just can't reach where you want to clean and how can you clean electrical appliances without wetting a towel? DON'T give up! "Kao's Quickle Handy" will entrap all dust with its fluffy fibers by just wiping where you want to clean. If you buy the "Body Flexible Type", then you can reach up to 100cm and the head can move in every angle so you can clean the top of the air condition and around the lights.
[For sinks] The smell will disappear once the black slim is gone.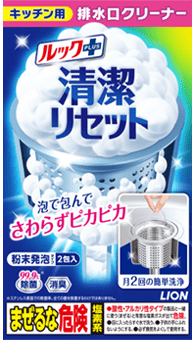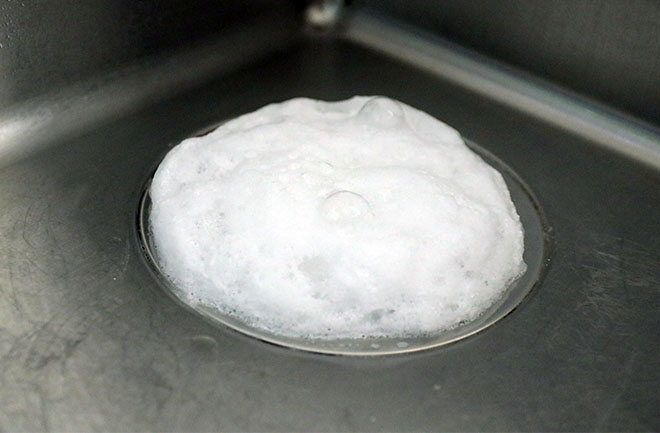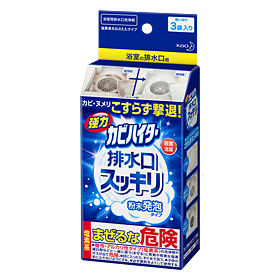 It's always best to keep the kitchen clean, but who's wondering how it can be done every day? This is when convenient cleaning goods come in handy! The black slime built in the drain can cause a bad smell in the room. If you clean the drain with bleach once or twice a month on a regular basis, it prevents bad odor and at the same time, you can maintain the kitchen clean too. LION's "Look Plus Seiketsu Reset" removes the dirt by simply just pouring the powder then water into the drain, and the foam will do the rest! Bathroom drain is one of the places people tend to leave untouched. But it's a place where mildew and bacteria are likely to grow. Kao's "Strong Kabi Haita Haisuiko Sukkiri" (Strong Kabi Haita Drain Cleaner) easily removes mildew and makes the drain immaculate and as good as new! Let's use it regularly to prevent mildew from building up.
TOPVALU's cleaning goods that use unharmful baking soda electrolyzed water.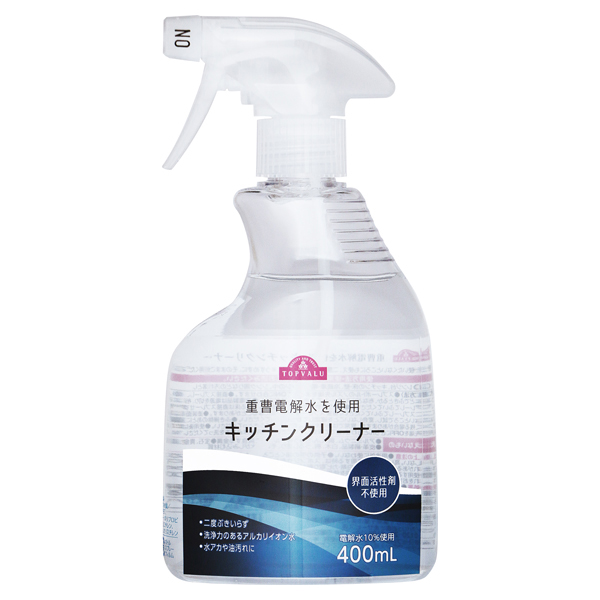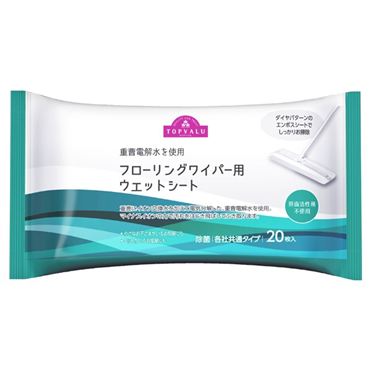 If you want to clean every day as a routine, it is necessary to choose cleaning goods that are unharmful to our health and environmentally friendly too. AEON's private brand TOPVALU has cleaning goods that are made with "Baking soda electrolyzed water". It is made of baking soda and water, which is used as a food additive, and on top of that, it removes dirt without a detergent so it is very safe to use it anywhere for cleaning.
A clean room creates a healthy body and beautiful heart. AEON offers many useful goods to make your cleaning experience more enjoyable.